You'll never guess where I am right now.
We were just here 3 weeks ago with my parents.
I guess I had gotten a little taste of California and couldn't stop thinking about it.
So last Monday I decided to head down here....I started packing our bags...called my husband at work and said we won't be here when you get home and headed out on the open road!
(19 hours later!!!)
We have had a blast though I tell ya!
My
sister
Chelsea lives here and my
sister-in-law
Emily was vacationing here,
so I have got to see them at the same time!
I can't upload my pictures from my camera yet but I had these from my cell phone.
Lucy and I doing laundry together....
She would only fold the clothes if they were her baby girl cousin Ruby's.

I am staying with my sister who lives in student housing with her husband and 3 kids.
So we took the clothes to their laundromat.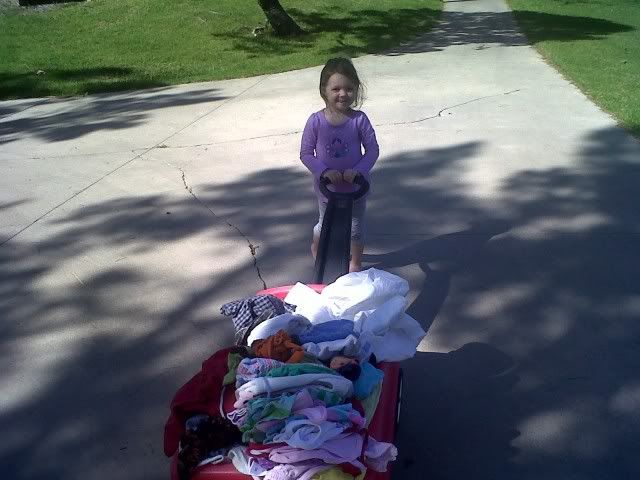 Lucy and I don't really get to spend a lot of
one-on-one
time without Trey boy there.
There was a lot of laundry to do, and I am so glad, because we were really enjoying each other.
Lucy's uncle Abe (my sister Chelsea's husband) taught Lucy and Trey to sing "Old Dan Tucker."
They have been singing it nonstop since.
While we were folding laundry Lucy and I were singing together.
She has the sweetest voice.
Ok
so I must really love you guys because I don't sing....
well I actually sing all day long to my kids,
but I try really hard
not to sing in front of other people. The Lord did not bless me with a good singing voice!
The only way you are allowed to play this video is if you promise to turn your computer sound
WAY DOWN.
Promise?
Alright here we go.
Lucy and I at the laundromat...