They are made and ready to be delivered!

They are great for grandmas, friends, teachers, and even husbands!


Here are my Jars of candy.
I went to a store that had the bulk food bins and got little bits of lots of different candies.

Lucy and I cut long strips of
scrap booking
paper.
Then pasted
card stock
tags to them with different sayings.
I made these tags in
photo shop
elements.
If you don't have
photo shop
it's
ok
. Just make sayings in "word" or some other program. Then just cut out a picture of your kids and paste it on. Piece of cake!
Then just taped them to the jars by taping the
card stock
strips together where it meets in the back of the jar.
This one has valentine gummy bears, hugs, & kisses.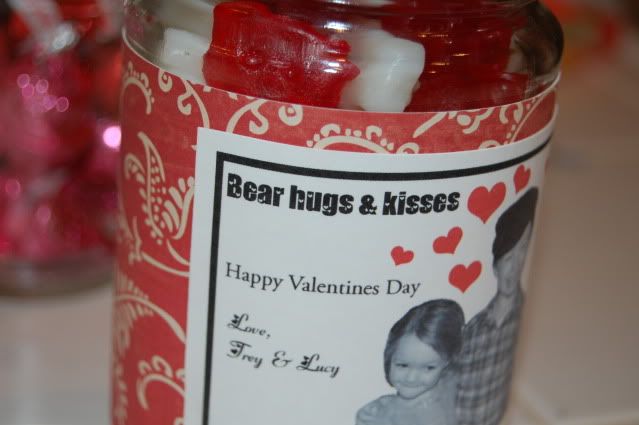 This jar has Hugs, Kisses, & Sour Patch Kids!

The tag reads:

"Hugs & Kisses
Happy Valentine's Day
From, These Sour Patch Kids"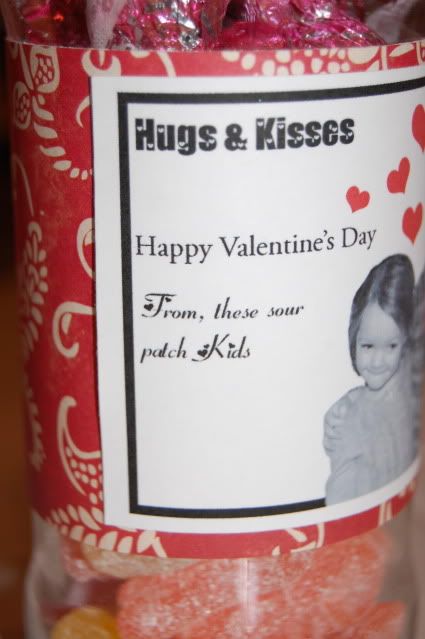 K, so here is the deal. Remember how you used to make those candy bar posters for boyfriends in
high school
?
SO, I wanted to make one but in a jar for my Husband this year.
I thought it would be kinda cute.
I brought home a bunch of candy.
Everything I came up...let's just say it wasn't rated G!
I guess I have kinda of a wild little mind. I had no idea.
HA HA!
Not really I mean it's for my husband people.
Anyway you can make up anything your little heart desires for your husband. It's kinda fun!
So here is the one I came up with that can be displayed on this blog. Here's what it's got....
Hot Tamales
Sour Patch Kids
Kisses
Now and
Laters
Here is how it turned out.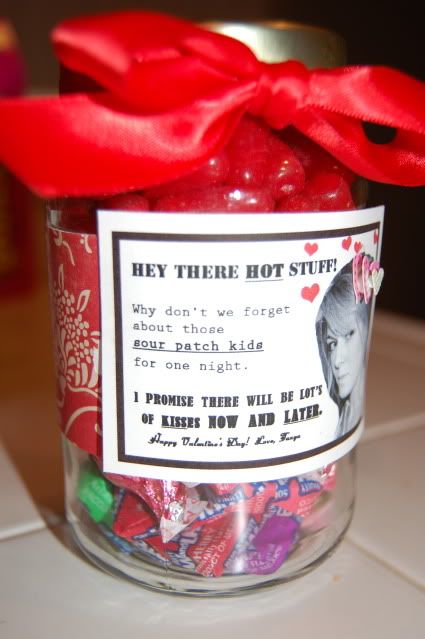 You get the idea. Now go make them!