see this guy? his name is miles. he is
my sister

chelsea's
little man. so that means he is my nephew :)
my sister is younger than i am.
but, she went ahead and passed me up with 3 kids.
this guy is the middle child.
he is so soft and so sweet.
this photo makes me want to grab him and
squeeze
his
marshmallowyness
.
it was his birthday when we visited my sister in
california
.
here he is blowing out his candles.
i love this picture...check out my little
lucy
on the left. she is dreaming about it being her birthday and is making her lips in the "blowing out the candles O shape".
it made me giggle a little.
when we got back from
california
, i realized that i didn't have any pictures of my sweet sister
chelsea
. but here she is lighting
miles's
candles on his cupcake.
you can totally tell how cute she is by that apron she is wearing though can't ya!
my sister is the
sweetest thing
you have ever met! seriously i think she might just be an angel sent here straight from heaven!
she is also
extremely
talented in crafts, sewing, baking, and cooking!
i am still thinking about the food that she made while we were there.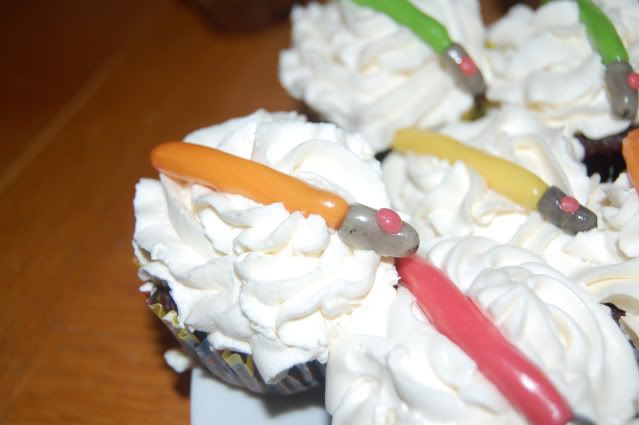 check out these star wars light saber cupcakes she made for
miles's
birthday!
she just
whipped
them right up out of nowhere!?
i couldn't believe it! all from scratch mind you.
the night before
miles's
big day, my two sister's and i stayed up late sewing :)
miles has this favorite penguin stuffed animal named "
percy
."
my sister made
percy
a super hero costume complete with mask and cape, a robin hood costume, a sleeping bag, and....
a star wars Obi-Wan
Kenobi
robe all for percy!
it was by far his favorite present. look at his smile.
so here is the deal. i call up my sister the other night right? i say to her...
will you please
start a blog
and show us how you do what you do?"
so coming to you very soon will be my sister
chelsea's
blog!
i can hardly even wait!
she is very busy with a sick little
baby girl
(my niece ruby) right now, but i will let you know when it is up and running.
be prepared to be amazed!