for finally turning 18. Gosh that seriously took
forever
!
Ok, so I realize that
New Moon
is old news to everyone, but I just barely went to see it.
I was just busy and hadn't gotten around to it.
So after seeing the movie, I went home, got online and hoped and prayed to the most high that he was 18.
Yesterday, February 11th was his Birthday!
I have been TEAM JACOB since day 1. So of course I LOVED the movie.
No I am not one of those who switched teams just because of this movie.
I have proof of this from
this blog post last year
.
The love triangle between these 3 was almost too much for me to handle.
At one point, I may or may not have screamed to Jacob "just kiss her!"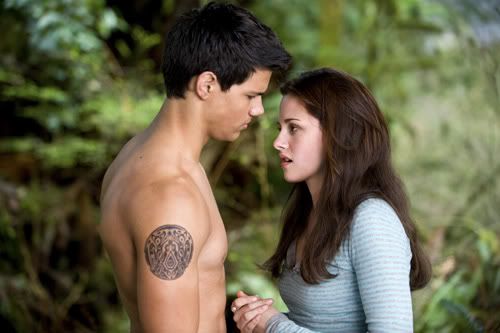 This picture is of my friend Erin last year when we went to see
Twilight
. It was opening night, and she stood with me, 9 months pregnant, in the rain to go watch it. She told me last year she would kill me if I posted this picture so I had to do it again!
Erin thanks for waiting to go with me this year!! We were the only ones in the theater!
Can't wait to see the next movie with you!
and yes I still wish I was a vampire.