I have so many photo's it is hard to pick! I have narrowed it down to these
500 :o)
Here is my favorite photo. Lucy and I had just ran to the bathroom before getting in line for the rockets. We came back and my husband says to me "
ummm
did you pull her skirt up like that?" I looked over and she had hiked her skirt all the way up to her chest. I had to take a picture because she looked so darn cute!
(yes she is wearing her
bubble skirt
i made her, you can get the pattern in my
etsy
shop)
oh the tea cups.
it was by far the kids favorite ride.
what the heck is trey doing in this photo?!
lucy
wanted to have a pink teacup every time and she got what she wanted.
the kids liked to spin it very fast. mom and dad didn't.
uncle

abe

,
trey is still talking about how you can spin the teacups the fastest!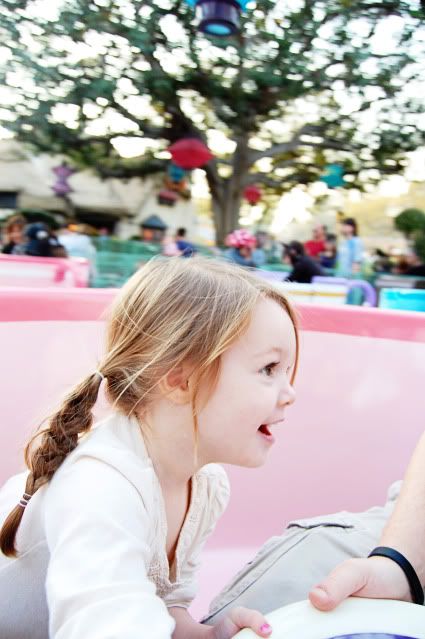 that's my youngest sister
emily
holding our very pretty little niece ruby and my sister
chelsea
(ruby's mama) in the purple shirt.
for those of you who don't know my dad, he is definitely
just a big kid
. i am sure a lot of you can understand this, because i think a lot of dads are this way.
before we even entered the park, he was running around pushing the kids in this jogging stroller like a maniac. he had an audience of
disney
goers laughing and loving it.
trey and his cousin
isaac
waiting to get on the peter pan ride.
my mom and sister
chelsea
wanted to take
lucy
to see the princesses. my sister has been talking about wanting to do this with
lucy
for years. when they came back i looked through the pictures and started laughing.
she would not get within 5 feet of those princesses.
here she is with
ariel
.
her cousin miles
couldn't
get enough of the princesses. i have pictures of him hugging then and not wanting to let go.
but my little
lu
just wanted to look but not touch.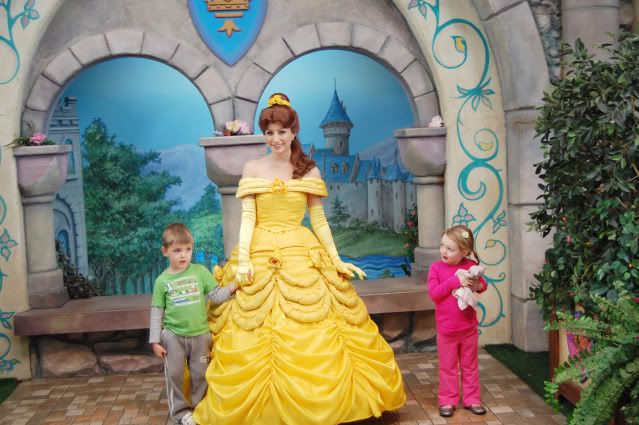 ok
so seriously. i can't get enough of these pictures they snap of you while you are on the rides.
this one was by far my favorite of the whole trip.
it is of us on space mountain, which is a ride completely in the dark.
so we get off the ride to check out our picture only to find this...
when you first see this picture my brother-in-law
abe
stands out to you right? but look at my sister on the back right! what the heck is she doing?
i laughed until my stomach was sore.
emily,
even though you have tried many a time to explain to me what you are doing in this photo, i still don't understand.
why is your tongue sticking out like that, and why are you making that face?
please explain this so we can all understand.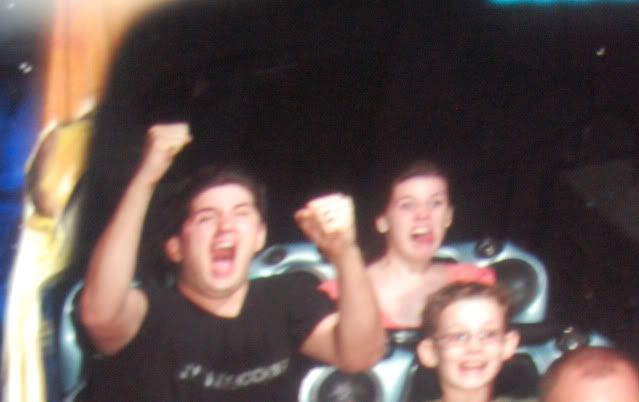 i bought my little
lu
this mini mouse phone.
she walked around the park "taking pictures" of everything.
this was too cute.
lucy
was playing one of those water shooting games, my husband was helping her and she totally won! i hurried and got my camera out
in time
to take this picture. she was so excited that she won!
that dumbo is her new favorite stuffed animal.
my dad with the
grand kids
and my brother
spencer
on the far right.
a cute picture of
trey,
lucy
, miles, and miles favorite penguin
percy
.
percy
rode all of the rides with miles.
oh this was too funny! i was
standing
on a bridge waiting for everyone to float down on the Grizzly River Rapids ride. here is a picture of them when they came around.
my husband is saying
"look trey wave to mom!"
right before they got drenched with water!
the best part is look at my dad on the bottom right.
he is totally pointing and laughing at them!
i know my dad well enough to know he is saying
"ha ha you sorry suckers!"
trey was a good sport about it, and luckily mom had brought him an extra set of clothes.

i thought this was a cute picture of my dad and miles after the ride.


we had so much fun i can barely stand it!
thank you mom and dad for letting us hop in your RV and taking us to Disneyland.
that was the best Christmas present ever!
thank you
abe
and
chelsea
for letting us stay at your house and making us such awesome food!
love you guys!