last summer we moved lucy out of her crib and in with trey so they could share a room.
she needed a bed...

i couldn't find one that i liked, and i didn't want to spend a ton of money one.
so i did the only thing i could, headed to home depot and bought some wood and paint.
when my husband got home from work i was unloading the wood out my car.
i gave him a "i really hope you are in a good mood and will jump on board with me on this" kind of look. he see's that look more than he wants.

"so what are you up to now?" he asks.

"will you help me make a bed for lucy?" i say with hopeful eyes.

when i can get my husband on board, i know the project will be finished within a couple of hours. he is a maniac when it comes to getting things done he puts his mind to.
i haven't quite figured out how to get his mind on doing the dishes but whatever.

he said "sure" with a smile and i knew we would have a bed by dark.

my husband sanded and cut, while the kids and i painted.
it has been finished for awhile, but i kept wanting to do more with my lu's little nook. i just got tired of waiting so here is the finished product!


the canopy is from ikea. it hung over her crib ever since she was a baby so we just moved it on over.

remember this
night stand?
see the before and after here.
i got it right off the front porch of trey's old preschool teacher.
it had been sitting there for months when i finally couldn't stand it anymore and asked her what she was going to do with it.
her bed and night stand just happened to fit perfectly in this nook.
we are talking by about 1/4 of an inch!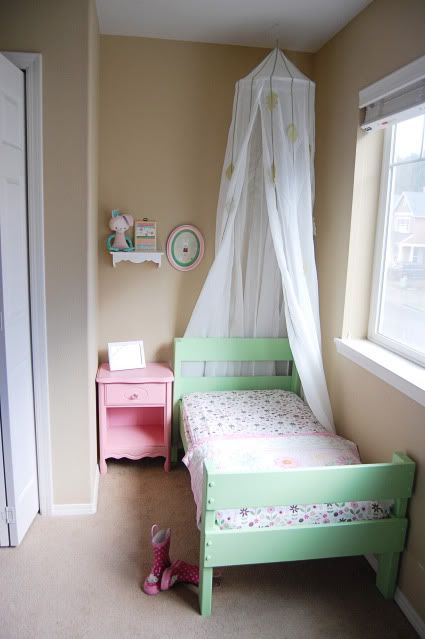 i had this shade of green in mind for her bed.
when i saw it, it sang to me and i knew it was perfect.
i think i may have jumped up and down a bit while standing by the paint wall choosing my paint card. no one can really know for sure...except for maybe the paint guy behind the counter.
i like to call it "
cottage green
"
but it is really just called "garden spot" by behr.
she loves her little bed. she sits on her bed with her friends and they close the canopy while reading books or doing each others hair.
all these items are from goodwill. i just repainted them.
except for the bunny. i made that myself.


uhh is that picture crooked. oh well.
I am linking to "A Soft Place to Land," & "Todays Creative Blog."