if i had a penny
for
every time
growing up i heard my dad say "wrestling is the greatest sport of all time," i would be a rich girl.
for the last few years trey has really been into wrestling. "mom let's wrestle he will say." i can tell when 5 o'clock comes around because he will come out of know where and headbutt me or ram into me with a running head start. aournd 5 o'clock is when his dad comes home and usually engages trey into some kind of roughhousing.
with trey turning 5 this year came lots of
opportunity
for him to play sports. there were a few options this fall which included indoor soccer, basketball, and you guessed it
wrestling
.
we headed down to the wrestling sign-ups and information night. my husband came with us and it was a good thing he did. when we entered the wrestling room i took a look around...there were at least 100 kids there and none of them looked like
basketball/soccer kids
. then it hit me...a lot of these kids are the kids that would probably get kicked out of basketball or the soccer club. these kids are the rough and toughies. my stomach started hurting, i became very nervous for trey.
i leaned over to my husband and whispered in his ear "can we just take trey to dairy queen, buy him a
ice cream
cone, and forget the whole thing?"
"he is doing it,"
my husband said. my husband was getting all caught up in the idea of turning our sweet little picture drawing craft making boy into a tough guy.
last night during wrestling practice i called my husband to see how it was going. "uh we have had a little injury he said, he is doing fine i just have to go so i can find some ice."
so that is the story about how my craft loving picture drawing little
treyboy
came home with his first
shiner
.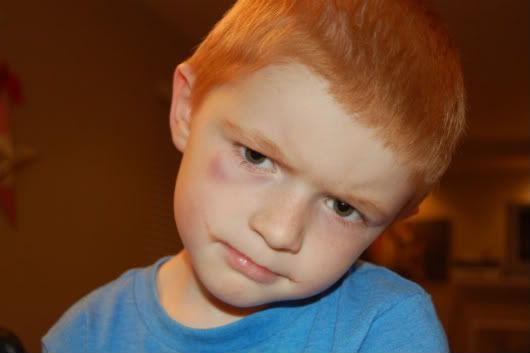 he wasn't so sure what to think of it first...
but his dad eventually convinced him that it was tough and kinda cool...
and his mom made him some hot chocolate to make it better.
i have realized through all of this that i am
definitely
a soccer mom.