come along with us to our house for the day!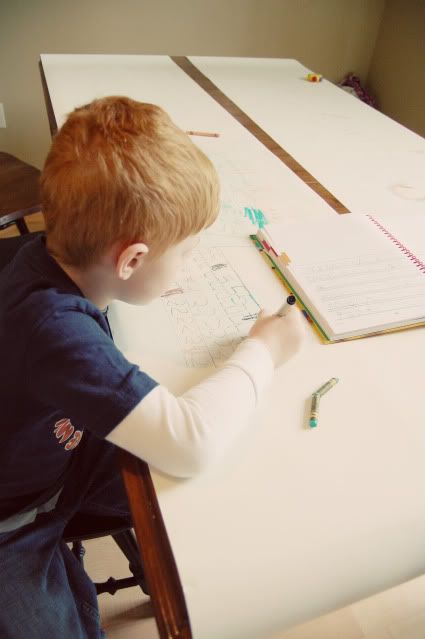 we used our trusty
ikea

paper roll
and covered our whole kitchen table with it paper! trey did his math and hand writing there using crayons. he thought it was
pretty darn cool.
lucy
practiced her name and drew some sweet pictures of princesses dancing.
we had an
extra little rascal
at our house today while his mom recovers from surgery.
he must be doing whatever my kiddos are doing at all times :o)
so we covered a chair with paper for him, and it was just the right height!
we went out to feed our rabbits today and poor snowball was
not looking so good
. he wouldn't eat or drink.
lucy
said a prayer that snowball would be
ok
and we brought him inside for the day. we are taking turns feeding him through a straw and he seems to be doing a lot better!
after hours of fun
lucy
and
liam
were needing a little down time...so i turned on "charlie brown's
christmas
" and set up the beanbags. at first they were fighting over who got to lay on the
pink
beanbag, but eventually made a great choice to share.
way to go guys!
liam
i will try not to tease you when your older that you just had to have that pink beanbag
ok
?
i was lucky enough to be invited outside to eat lentil soup with
lucy
for dinner.
i am the luckiest mom in the world to
receive
such an invitation!
if she asked you would you be able to turn that little face down?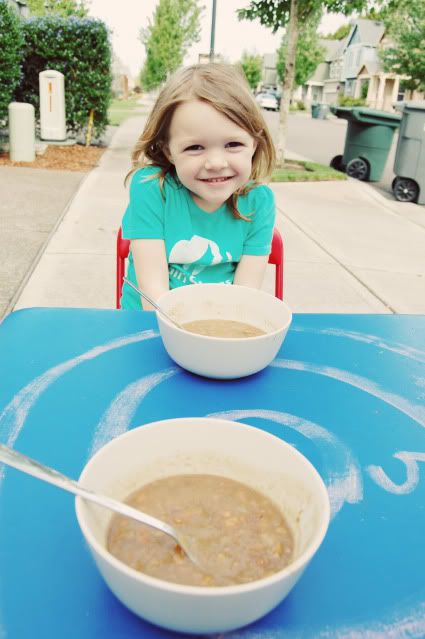 throughout the day we all worked together to make cinnamon rolls.
lucy
was sweet enough to help me with the frosting.
she
found out
what happens to the powdered sugar if you turn the kitchen aid on high.
we all ate cinnamon rolls covered with
creamcheese
frosting after dinner.
this clone of

cinnabon

recipe is my favorite.
don't be afraid...your bread machine makes the dough!
and it is so YUMMY!
thanks for coming along with us for the day!